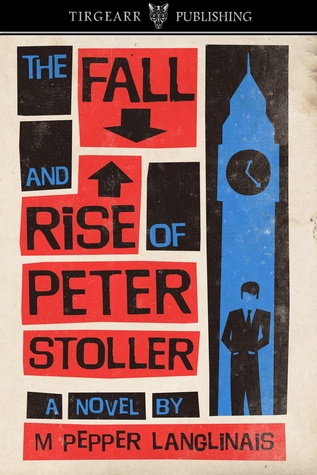 I gave this book 3,5* out of 5
The Blurb:
"In 1960's London, British Intelligence agent Peter Stoller is next in line to run the Agency—until he falls in love with cab driver, Charles, and his life goes off the road. When Charles is accused of treason, Peter is guilty by association. Peter manages to extract them both, but the seeds of doubt have been planted, putting Peter's mind and heart at war. Is ignorance truly bliss or merely deadly?"
This is the first time I've read a 'Spy' book. I wasn't sure I'd enjoy it at first; it took me until around the 10% mark to really get into it. (My own fault, I think; I should have read the blurb again before I started. After all it does say  the story is a cross genre of love and spy mystery!)
Written by M Pepper Langlinais the book is divided between sometime in the 1940s and in the 1960s; so I felt it important to try to remember what I knew of the social and political eras.
What struck me most about the whole of the book is the way the author writes from the protagonist's, Peter Stoller's, point of view; the way the story is told by him, the internal dialogue, his thought processes,  and his internal body language, which reveals so much of his emotions. I've never read a book where so much of the protagonist is revealed in such minute detail.
There are a lot of characters in this book and, sometimes, because of this, I initially found them quite confusing and I had to flick back to see where I'd read of them before. As the story unfolded, though, I began to recognise each from the author's way of subtly adding in a short description of a characteristic.
The dialogue defines each character most of the time and the language and slang within the dialogue excellently reveals Britain at the time.
The settings, both of the Castle, where the British Intelligence offices are, the various places of residences, and the countries the characters move around in, are well described and kept me interested in the action, although I sometimes found the pace a little slow.
Would I recommend The Fall and Rise of Peter Stoller? Yes, I think I would, to all readers who enjoy this genre.
I received a copy of The Fall and Rise of Peter Stoller  from the author and  as part of Rosie's Book Review Team #RBRT  in exchange for an honest review.
Find a copy here: 
 Amazon .co.uk: http://amzn.to/1PKegcQ
Amazon.com: http://amzn.to/1Q9qdmHhttp://amzn.to/1Q9qdmH