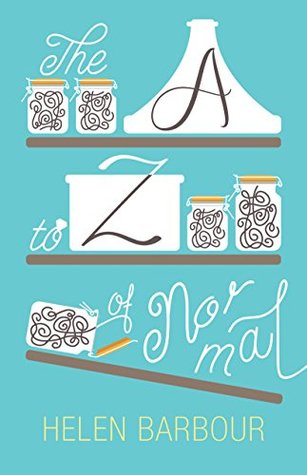 I give The A-Z of Normal, by Helen Barbour 5*
I loved The A-Z of Normal, by Helen Barbour. Just by looking at the interesting cover I knew this wasn't going to be a conventional romance when I chose to review this book. And thank you to Rosie and Helen for this great find.
No, this is as much the poignant story of the protagonist, Clare and her struggle with the condition of  Obsessive Compulsive Disorder ( OCD) which she has kept secret from her family and friends all her life. Now, with a marriage proposal from Tom, she has to face up to all the issues that living with him will face. Although the subject of OCD is inherently distressing there is plenty of what I would call 'dark' humour that lifts the story and makes compulsive yet challenging reading.
As usual I will not give spoilers in my review. What I will do is urge anyone to give this book a go.
Helen Barbour has a wonderfully unique writing style and interweaves the main plot around sub plots with skill and subtlety. The story moves at a satisfying pace with no lapses
Told mainly from the first point of view of Clare, both the internal and the spoken dialogue is so well written that the words echoed in my head – always a sign to me that the speech resonates with the way  that character would talk.
Each of the characters is rounded and individual in their own way. And the interaction between them is loaded with complexity and tension that could only be expected where there is such a destructive secret. Yet it is satisfying to see how, as we gradually learn about her background, the relationship with both her father and her sister evolves
As I said at the beginning of this review, this is a book I loved. It made me think long and hard about a mental issue I hadn't considered before and how it can ruin the life of so many people. Yet this story lifted me beyond that into admiring the writing, the words on the page. I would thoroughly recommend this book and hope we will see more from this author.
Fin a copy here:
Amazon.co.uk
Amazon.com